Salami with Enoki Mushrooms Pizza
At My Husband Makes Pies, we love to experiment with ingredients that aren't your "run-of-the-mill" when it comes to pizza. Today, we're excited to combine enoki mushrooms, salami, and togarashi spice mix.
Enoki mushrooms, which are commonly used in East Asian cuisine, have a delicate and fruity earthy flavor and a lovely chewy texture that adds depth to any dish. Togarashi is a Japanese spice blend that has been used to enhance dishes since the 17th century. Togarashi consists of chili, seaweed, Japanese peppercorns, and other ingredients that work together to create a unique and versatile spice mixture.
The combination of enoki mushrooms, salami, and togarashi spice mix creates a subtle, yet earthy and spicy flavor profile that is truly mouth-watering. The addition of the zesty togarashi spice mix adds an extra dimension of flavor that complements the savory salami and delicate enoki mushrooms. Together, these ingredients create a pizza that is both daring and delicious, perfect for those looking to try something new and exciting!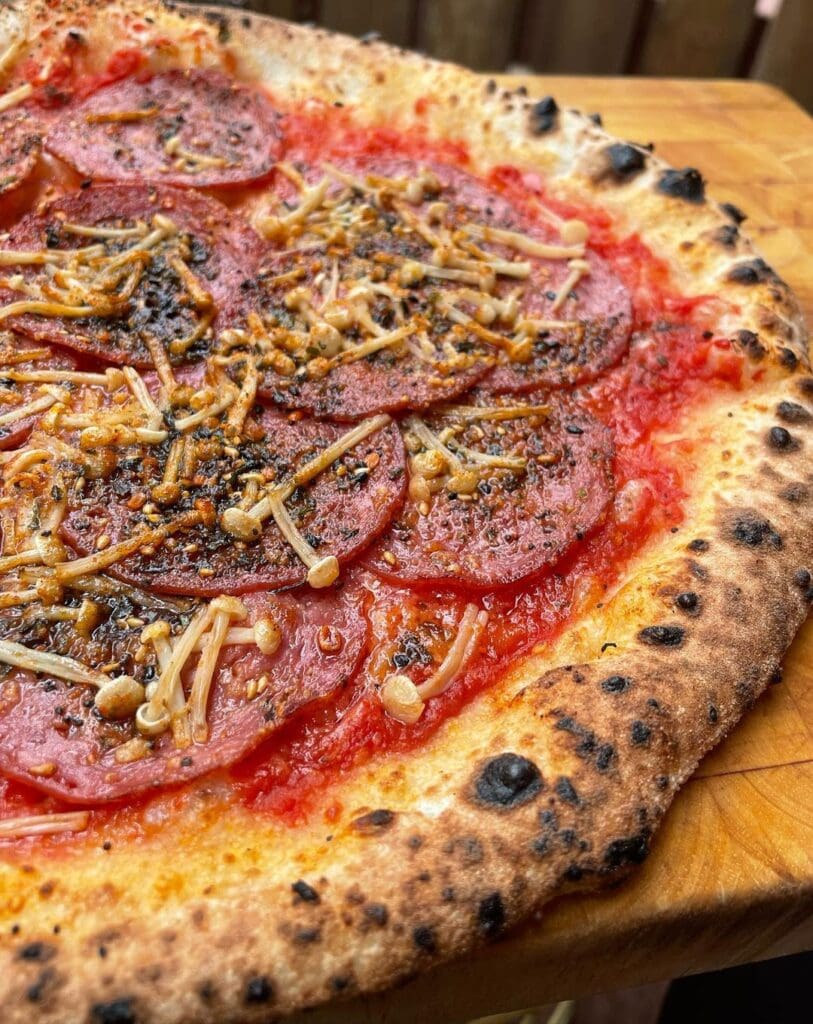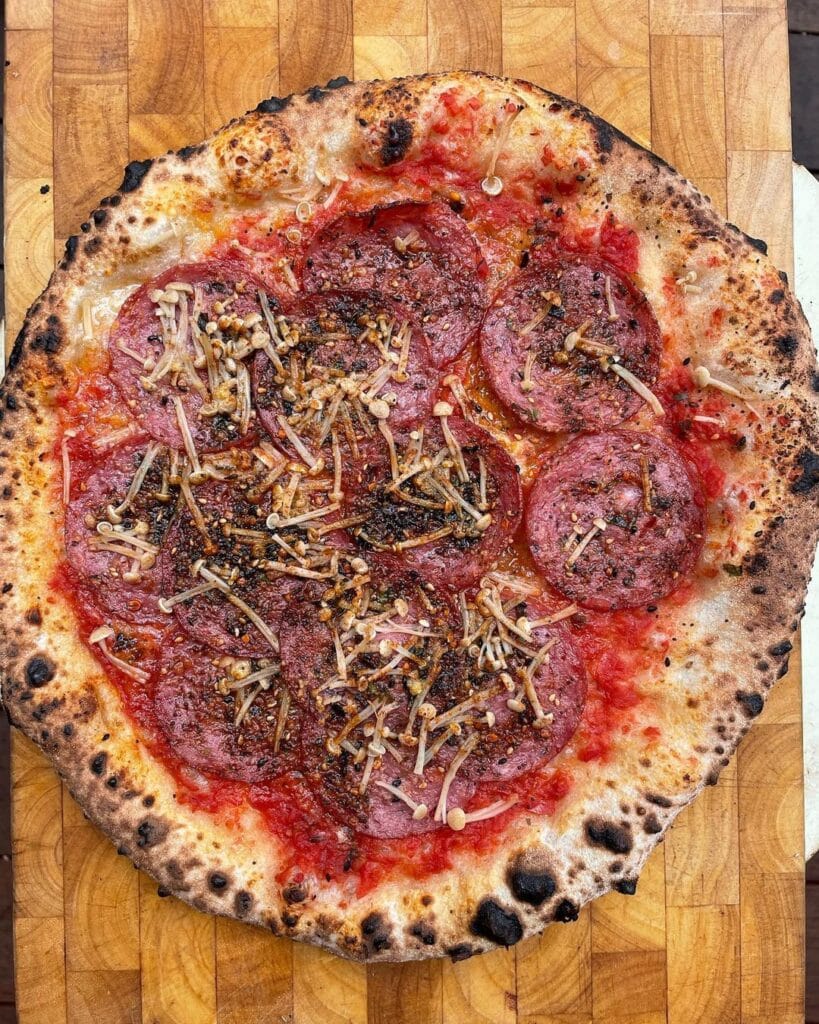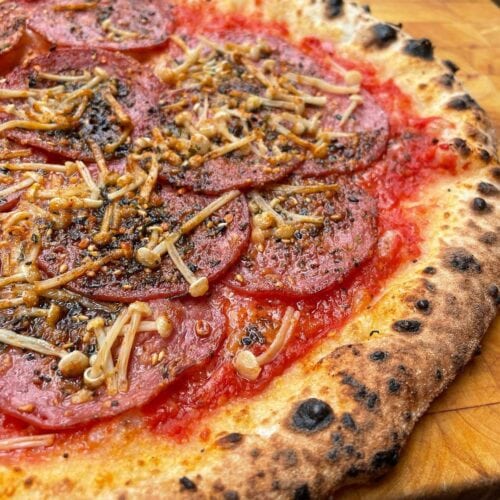 Salami with Enoki Mushrooms Pizza
Enoki mushrooms offer a delicate, fruity, and earthy flavor with a chewy texture, while togarashi is a Japanese spice blend that adds a unique and versatile flavor to any dish. Together with the savory salami, this pizza creates a daring and delicious flavor profile that is perfect for those looking for an exciting pizza experience.
To make this enoki mushroom and salami pizza pie you'll need a few simple ingredients and a little bit of time to prep the dough and toppings. Follow our step-by-step instructions and you'll be indulging in a slice of this exciting and flavourful pizza in no time. Bon appétit! And don't forget to check out some of our other pizza recipes for inspiration for your next pie day!
Equipment
Outdoor Pizza Oven, Pizza Steel, or Stone (if using a home oven)

1 Pizza Peel

1 sauce ladle

1 wooden chopping board or peel for prep and serving
Ingredients
1

pizza dough ball

1

ladle of pizza sauce

Grana padano cheese

Salami

Chotto motto sichimi togarashi spice mix
Instructions
Follow any of our dough recipes. You will need to prepare the dough at least 24 hours ahead of time.

For the sauce, we recommend our standard pizza sauce which is versatile, simple to make and is perfect for Neapolitan style pizzas. Spice up this sauce however you like, remember the best part about making pizza is the creative process!

Chop the tougher ends of your enoki mushrooms, set aside for assembly.

If you're using an outdoor oven like an Ooni pizza oven, fire it up and aim for a temperature of 450-500°C on the center of your pizza stone. Use an infrared thermometer to ensure accuracy. This should take around 25-30 minutes to reach temperature.

If you're using a home oven with a pizza steel or stone, place the stone or steel in the oven and set to the highest temperature for at least 30 minutes.

On a lightly floured surface, stretch out the dough by hand according to the steps outlined in our dough recipe.

Once you're happy with the shape of the base, lightly dust your pizza peel and transfer the dough onto the peel.

To begin assembling your pizza, start by spreading a ladle of sauce in a circular motion, starting from the center of the dough and working your way outwards. Next, generously sprinkle chotto motto sichimi togarashi spice mix over the sauce, followed by a couple of handfuls of grated grana padano cheese. Layer your salami slices next, making sure to overlap them slightly for optimal texture.

If you're using an outdoor pizza oven, launch the pizza into the oven and bake for 60-90 seconds. Keep an eye on the pie and rotate every 10-15 seconds to ensure even cooking and to avoid burning. For a home oven with a pizza steel or stone, the bake time should be around 7-10 minutes.

Remove from oven, serve on a wooden peel or chopping board and enjoy!
---
---